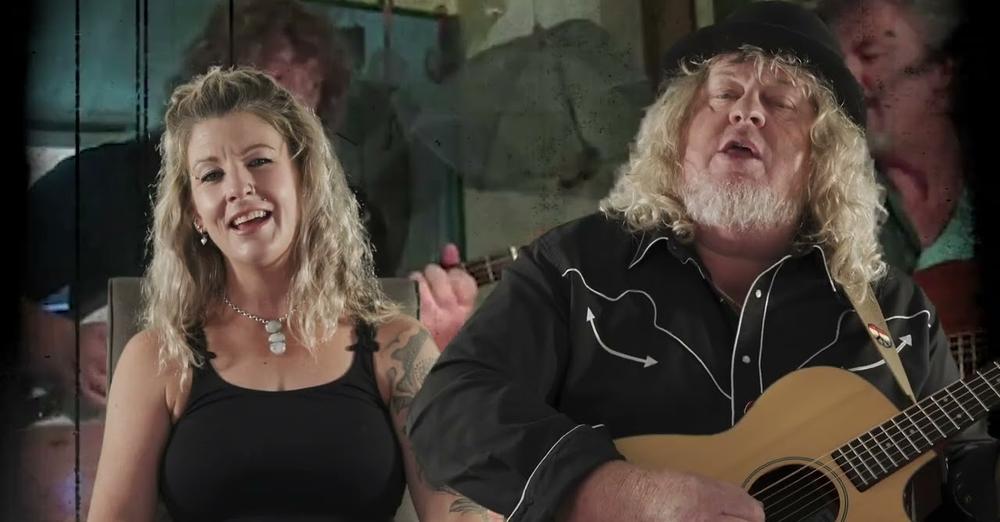 New Single Release
The Red Top Table reminisces over life around the red top table in the kitchen. This new version told by Sarah, Garry's daughter, echoes the family life as it was when these tables seemed to be in everyone's possession (some were yellow or blue). The new music video, shot by Rob's son Zac Shaw, intertwines with footage from the old video of Garry & Rob singing the song back in 2007. ...
Full Story
---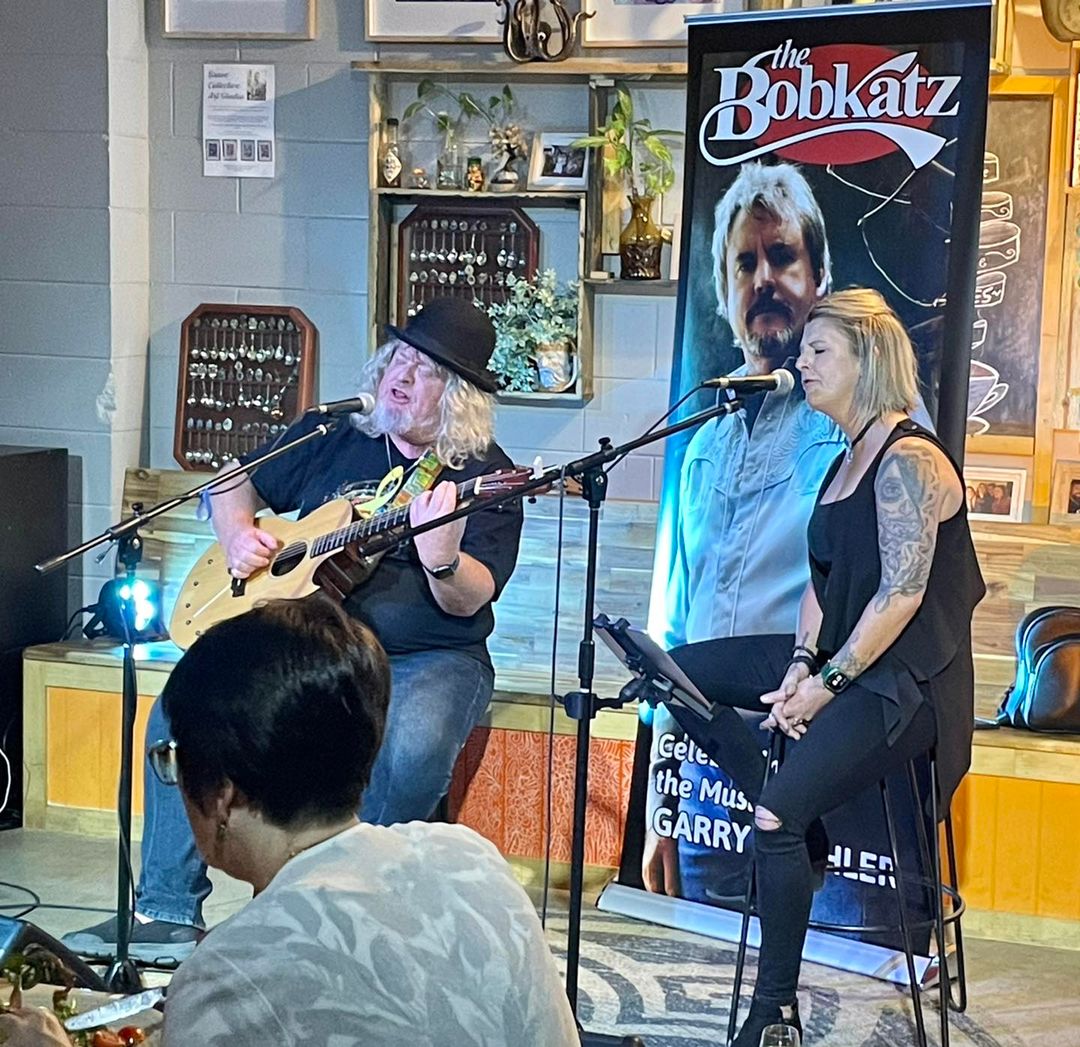 Another great night at Oodies Bundaberg
This place has well earnt the name "Bundie's Bluebird" for staging wonderful music events featuring original music from artists all over Australia. Great to be there again to play Garry's songs in an intimate listening atmosphere to a respectful and appreciative audience. ...
Full Story
---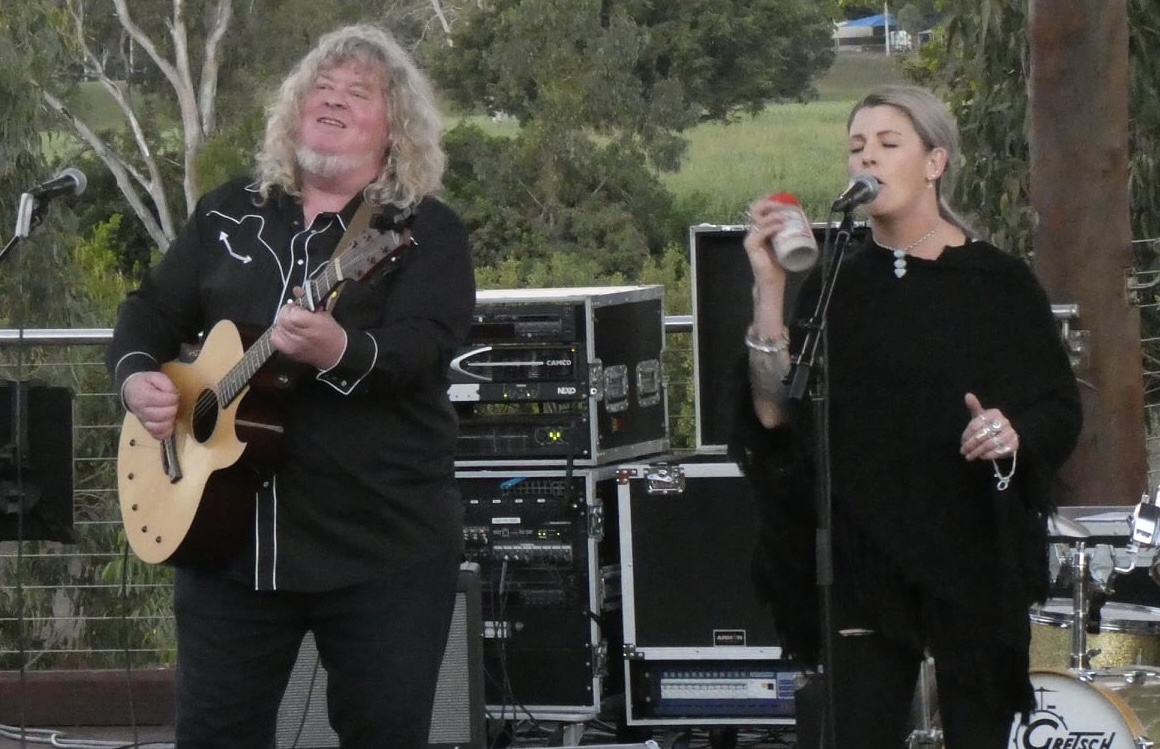 WERE OFF TO THE 2022 MUSTER
So looking forward to getting back to playing at The Muster. One show on Thursday 25 August at 3 - 4 pm at The McDaddy Grove Stage. We love this venue, a great place for to relax and enjoy some great story telling songs. ...
Full Story
---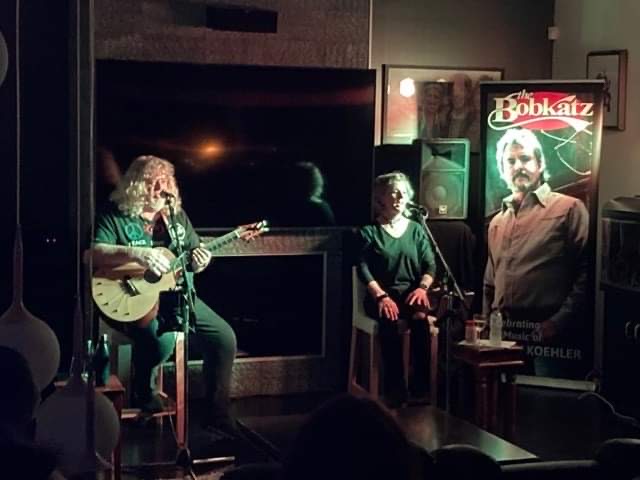 SOME SAY THE BEST YET
Such a lovely night at last Fridays house concert. Open fire, great company and always a pleasure to sing Garry Koehler's songs. The new songs went over a treat as well as some of the reworked older songs. Thanks to everyone who came along.....a beautiful and most respectful and appreciative audience. New House concert for September will be announced soon. ...
Full Story
---
NEW HOUSE CONCERT
Great to be doing another House Concert 6.30 pm Friday 22 July 2022 at Eli Waters Hervey Bay. BYO drinks, nibbles and seating provided. Indoor event. Tickets online at https://www.thebobkatz.com/shop/product/house-concert-friday-22-july-2022-6-30-pm-eli-waters-hervey-bay-qld/ ...
Full Story
---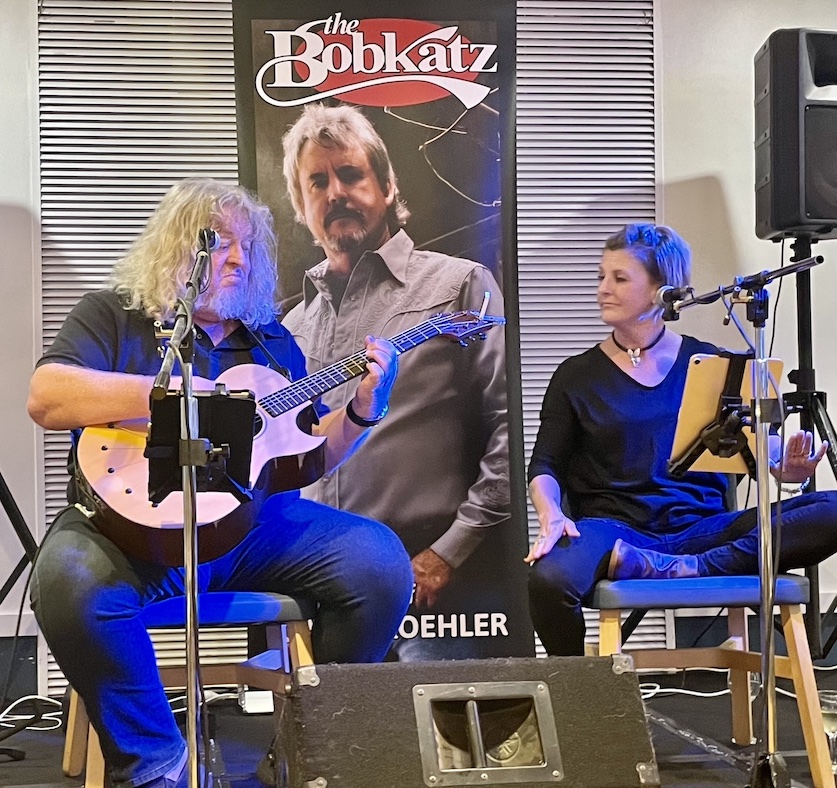 Thanks Hervey Bay RSL
Thanks to everyone that came along to see us at the Hervey Bay RSL. A very enjoyable evening and great to try out some of our new material. ...
Full Story
---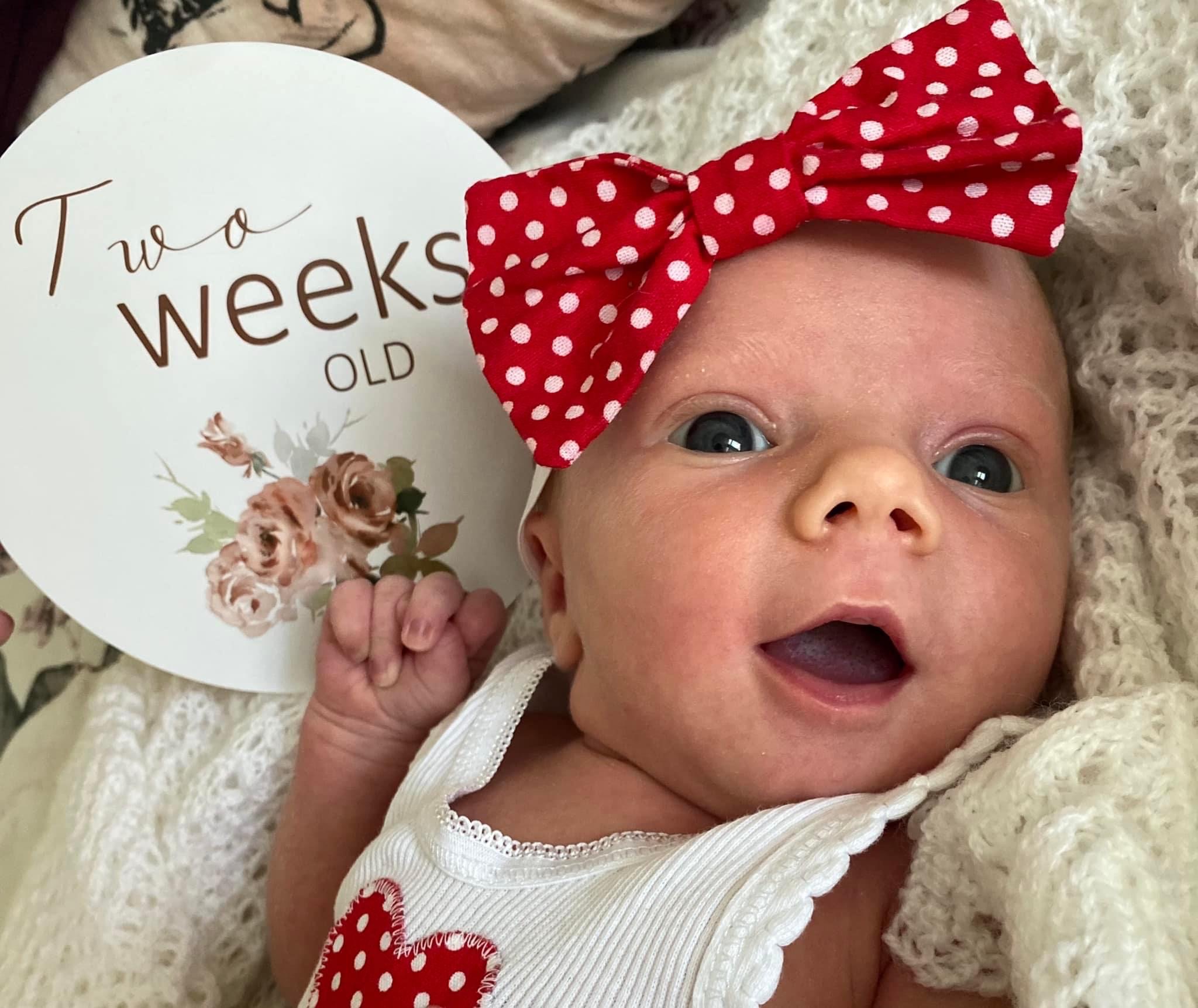 Grandchild for Bobkatz Rob!!!
In the words of Garry Koehler......."well I never thought I'd be here but it's just like Ive been told......and when I look at you and I look at her, it's just Pure Gold" Robert Mackay is beyond pleased to announce the arrival of his first grandchild Zoe , a most beautiful little girl to Abbey & Shaun. Mum & daughter are doing well and Rob is a bowl of porridge. ...
Full Story
---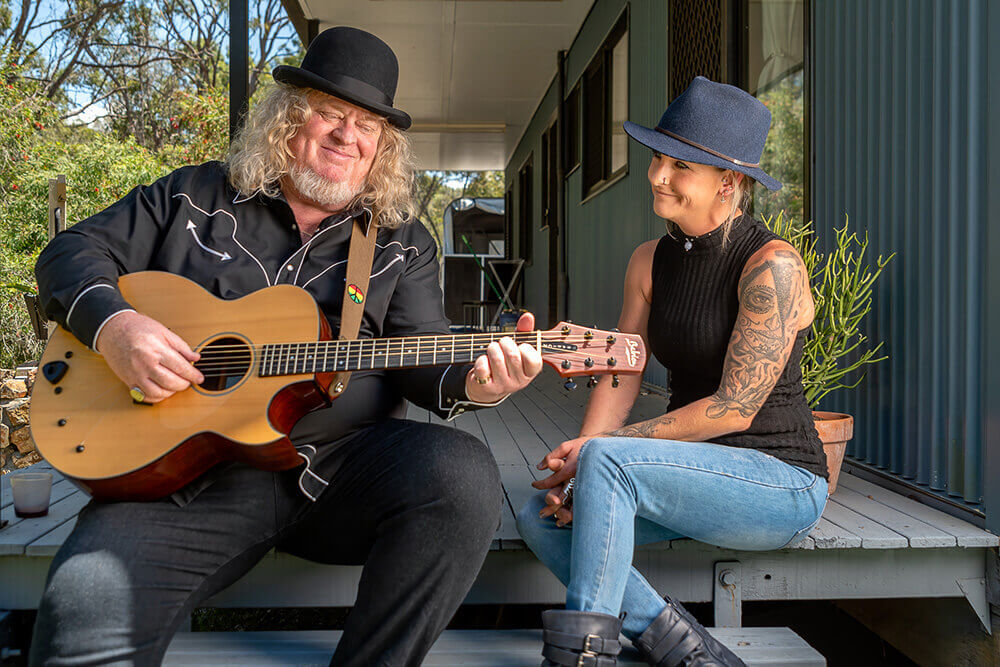 GETTING BACK TO TAMWORTH IN JAN 22
The Bobkatz are looking forward to hitting Tamworth in Jan 22. We will be doing a full show at The Tamworth Services Club (downstairs) Sunday Jan 16 at 7.00pm & a few guest spots including "Writers of The Round" on Jan 19. ...
Full Story
---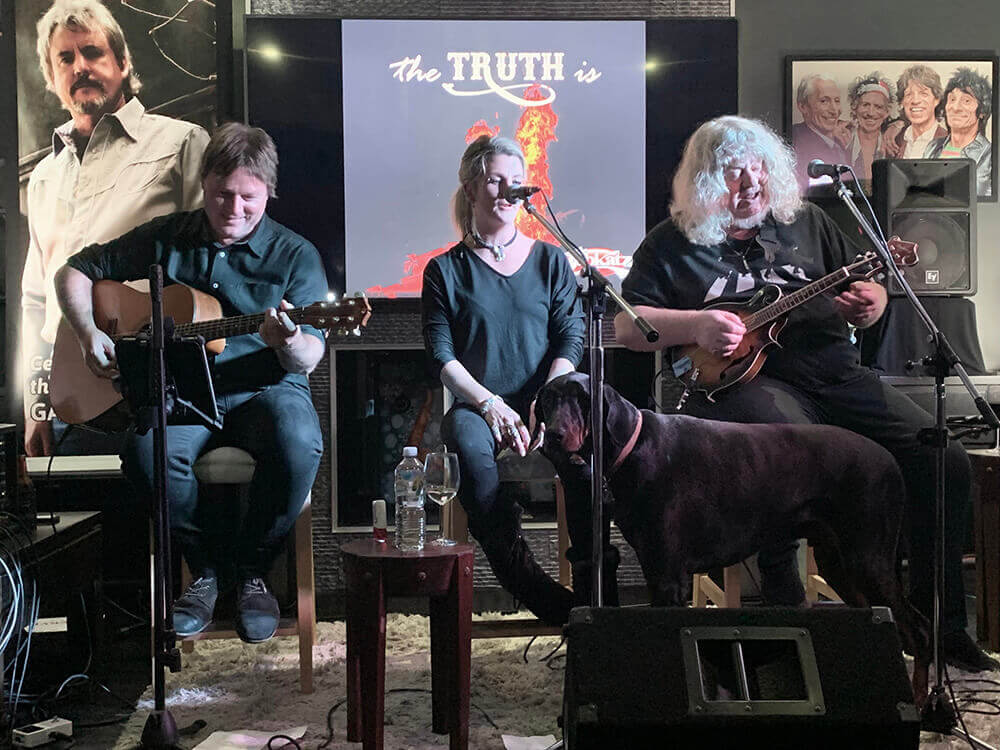 House Concert No 3. What a beautiful Evening!!!
The third and final House Concert to Launch the new album "The Truth Is" was a truly. memorable evening. Thanks to everyone who attended. We thought Jeffrey would enjoy roaming around our guests but he seemed to prefer the stage :-). Thanks to Scott for being MC, Richo for playing with us & Julie and Nicole for the delightful food. ...
Full Story
---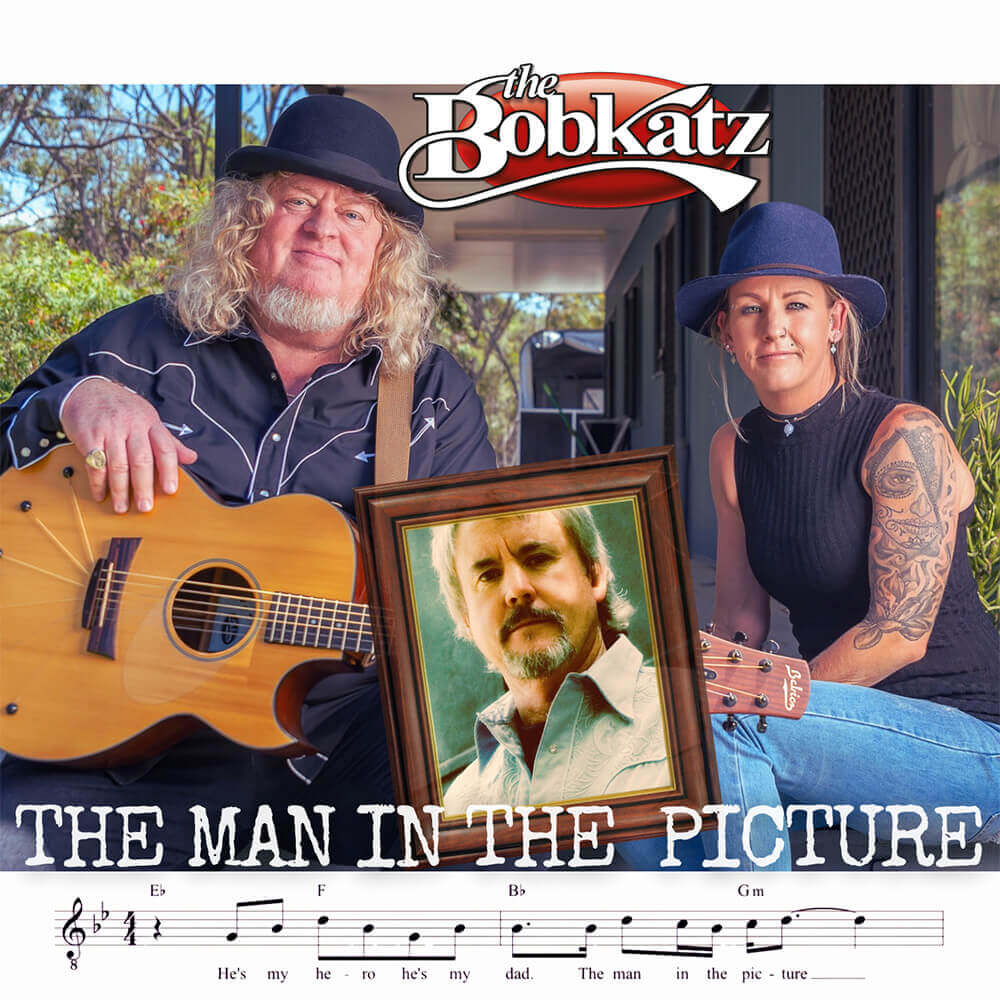 New Man in the Picture Video released !!
We are so proud to release this new video for The Man in the Picture. We thanks all the people who contributed their hero to make the video something special. View on The Bobkatz Facebook page or our utube channel ...
Full Story
---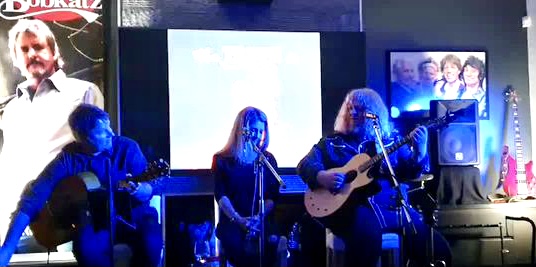 3rd HOUSE CONCERT ANNOUNCED
Our 1st Hervey Bay album Launch for "The Truth Is" was a great success. Thanks to everyone who came along. 2nd show on 20 August is sold out. We have announced a third concert for 27 August 6.30 pm. BYO drinks. Nibbles provided. BOOK YOUR TICKETS ONLINE NOW ...
Full Story
---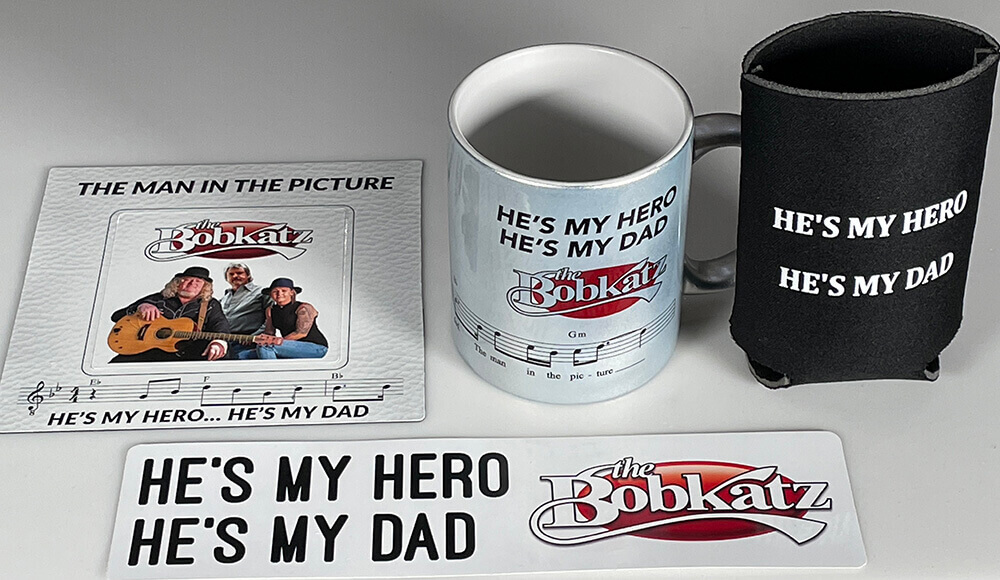 He's my Hero, He's my Dad Merchandise now available in our store
To celebrate our most well known and most requested song, The Man in the Picture, we are pleased to announce a great range of "He's my Hero, He's my Dad" merchandise. Ideal gifts for Fathers day 5 September. Link through to the store and check out the range. ...
Full Story
---
GREAT ALBUM LAUNCH
A sell out crowd at Oodies cafe saw the launch of the new album "The Truth Is" What a great night it was, what a great venue this is! Garry was with us in song and spirit & our audience soaked up the new songs with respectful silence which is the "Oodies norm". Thanks to Richard Butler for playing with us along with guest appearances by the effervescent Tex Austin and the beautiful songsmith Sam Maddison who performed the beautif ...
Full Story
---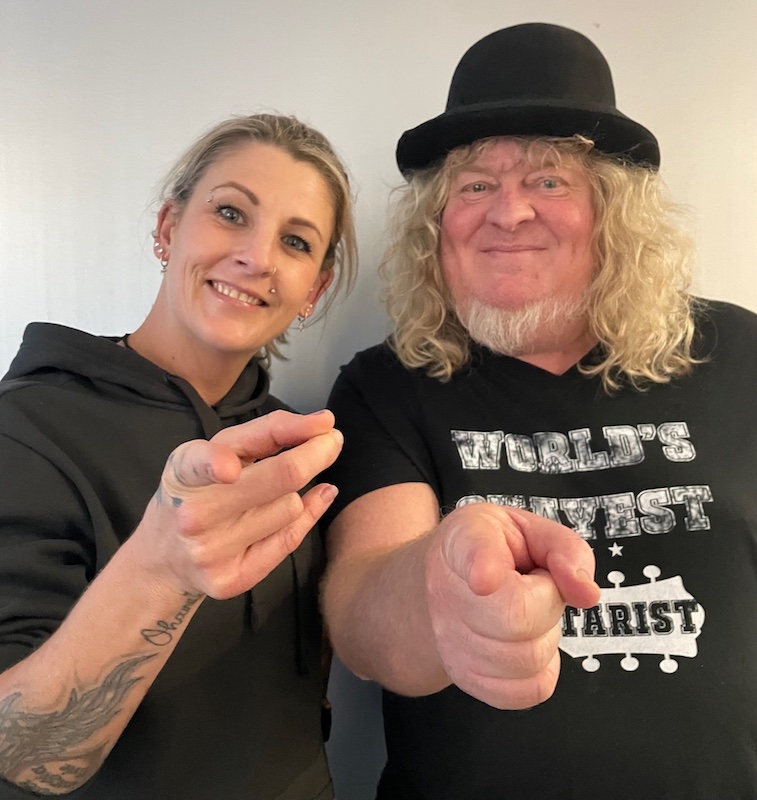 WE NEED A PICTURE OF YOUR "MAN IN THE PICTURE" FOR NEW MUSIC VIDEO!
Sarah & Rob will be doing a music video for the newly recorded version of The Bobkatz best know song The Man in the Picture & we would love to include your Hero, your "man in the picture"! Have a look through your photo albums and send us your hero for consideration for use in the video. Submissions to rob@thebobkatz.com ...
Full Story
---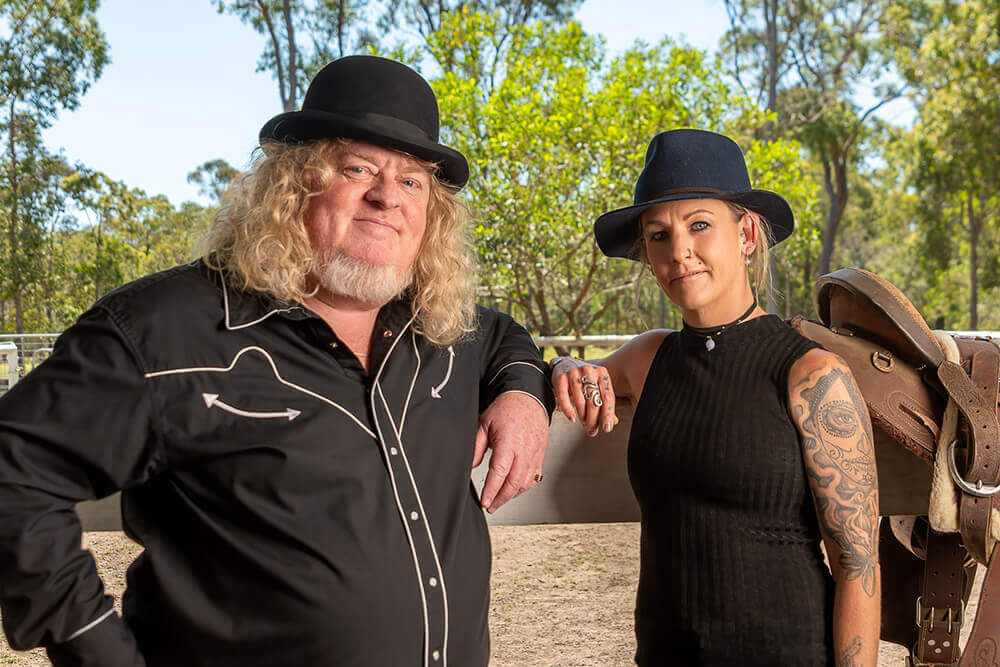 2ND HOUSE CONCERT 20 AUGUST
Tickets for a second house concert to launch the new album "The Truth Is" are now available. Friday 20 August 6.30 pm 21 Lady Penrhyn Drive Eli Waters. BYO drinks. Nibbles provided. Book early......1st concert sold out in 24 hours. ...
Full Story
---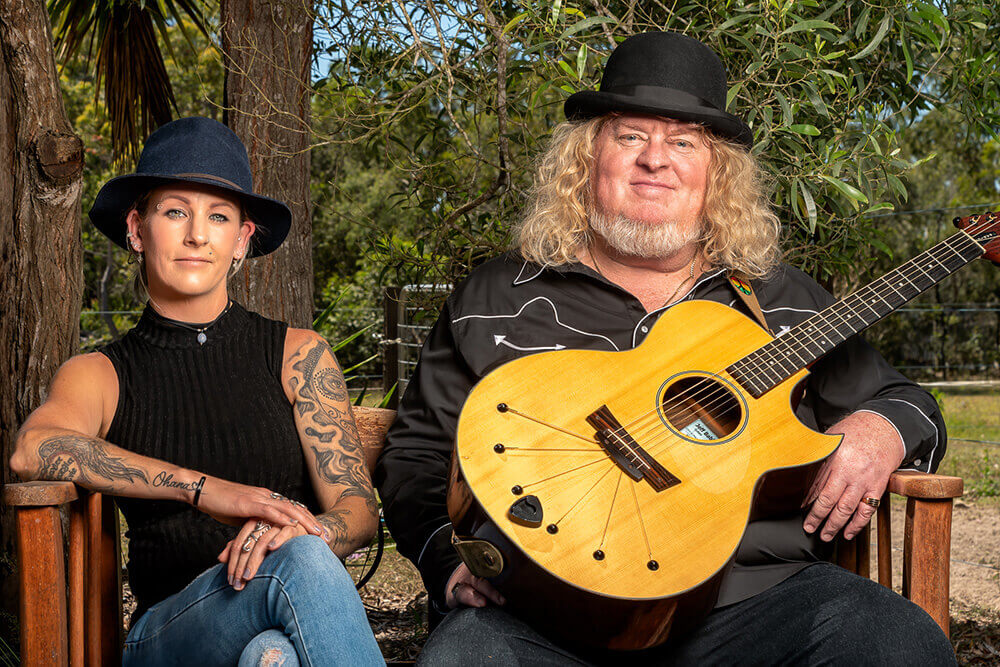 House Concert Hervey Bay Friday 13 August 2021 SOLD OUT
THANKS FOR ALL THE SUPPORT SHOWN TOWARD THIS SHOW. 2ND SHOW SCHEDULED FOR FRIDAY 20 AUGUST ...
Full Story
---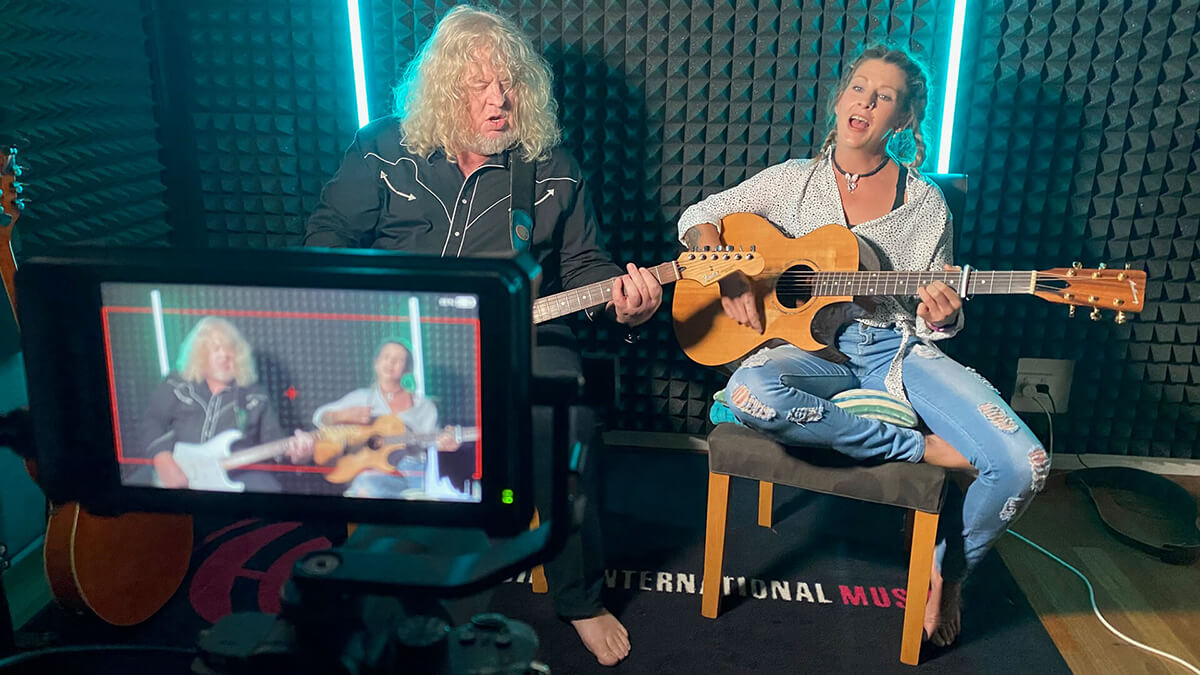 Hervey Bay Album Launch
Sarah and Rob will launch the new album "The Truth Is" in Hervey Bay at a house concert at Eli Waters Friday 13 August at 6.30 pm. Limited seats available. $30 per head. BYO drinks, Light supper included. ...
Full Story
---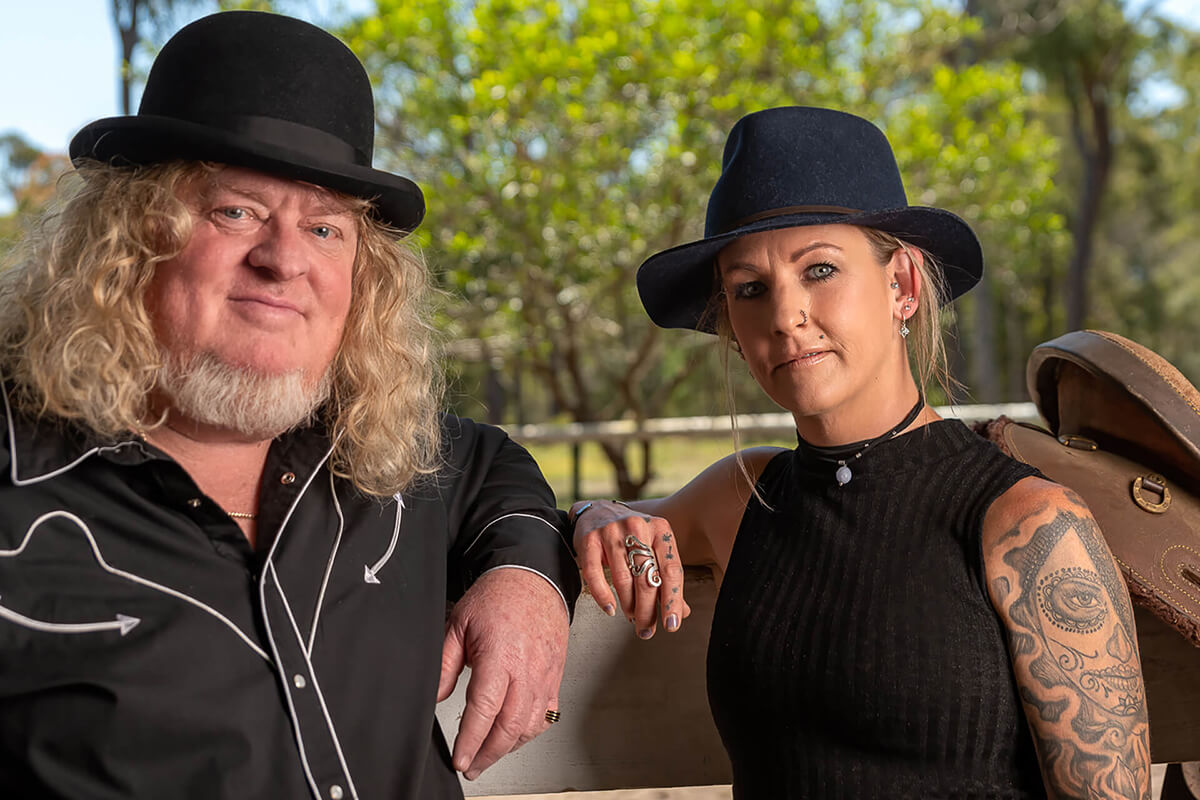 Bundaberg Album Launch
We love Oodies and we cant wait to launch our new album "The Truth Is" there on the evening of 22 July, Oodies Cafe Bundaberg. Tickets selling fast. ...
Full Story
---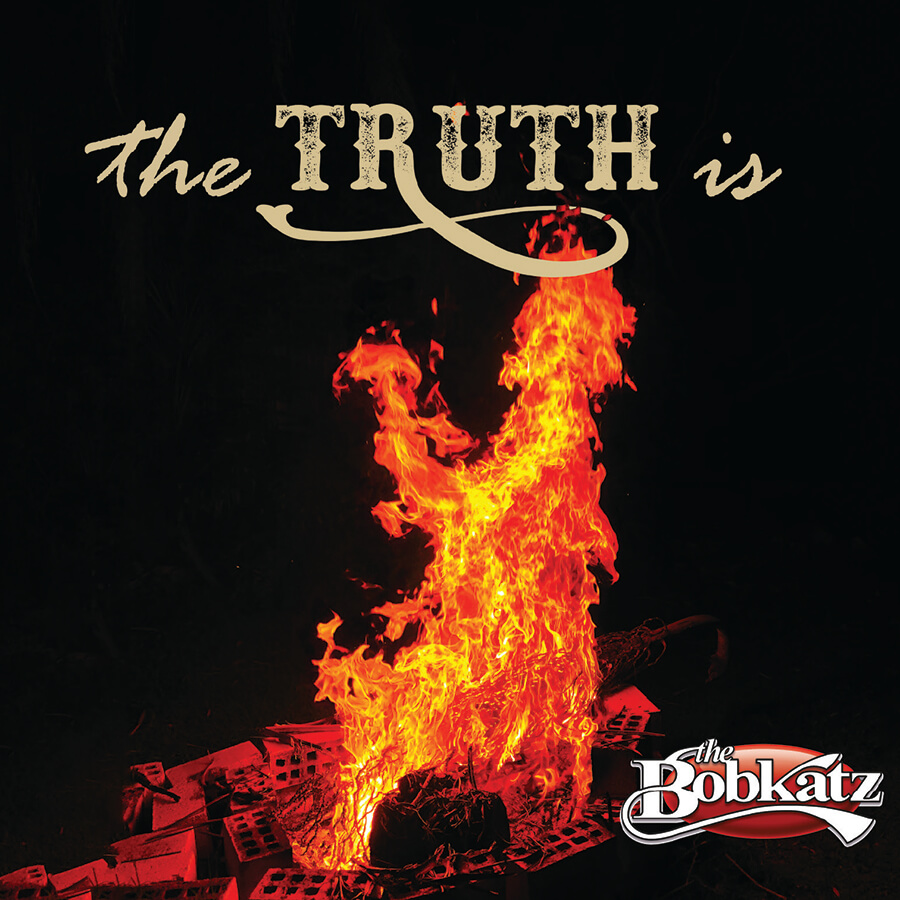 NEW ALBUM OUT NOW
Rob & Sarah are pleased to announce the arrival the brand new Bobkatz album. ...
Full Story
---